Pop Quiz
School has started or is starting very soon in your area. And the most important day of the school year is the very first day. Yes, without a doubt-it's the first day. And I always started with a pop quiz…
Teaching is often regarded as a combination of an art and a science, and I believe that. The first day should be reserved for the
art of teaching
and the passion that a new school year should bring. The science can come later. Use the first day to set the tone that will serve you the remainder of the year. Be different, be more than typical, be more than average….
If you are like most high school teachers, you are reading off the names of the students in your class, asking them if they want to be called James or Jimmy, passing out textbooks, and laying down the class rules. The students sit passively, taking it all in, sizing you up, and bored to tears because they've heard it all before, and if it's first period, they'll hear it at least four more times that day. Oh, and by the way, 90% and above is an A....
If you do that, you're typical. Just like almost every other teacher and you've lost the moment. The first day calls for more creativity, more energy, more conveying what it means to be a teacher. Be the teacher the kids talk about at the dinner table that night....
I never passed out books, or asked their names. Plenty of time for that later. My first day started with a pop quiz. That's right, the two words that strike fear into the very souls of any teenager. Here it is: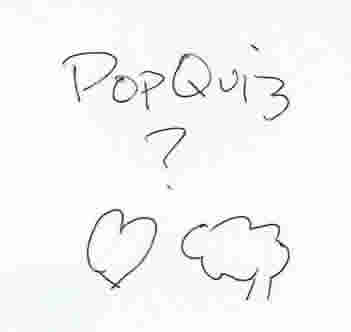 I ask them what these two images represent. Now I can see who my risk-takers are-very important. Always, someone will say the image on the left is a heart. Yes, that's correct. The image on the right is more of a challenge and typically only because of my artistic abilities. Someone eventually will guess brain (stop laughing, Miguel) and they would be correct.
Now I ask them: What do these two things represent and why are they important in biology class?
They never get it.
They guess everything, and now I've got them into hypothesizing and asking questions, typically everyone contributing….but they never see where I am going.
These two things represent standard equipment for success in class.
And in life.
You walk into class with everything you need to be successful.
Here's the upshot:
If you have a lot of brain, you don't necessarily need a lot of heart. You can do well, but you'll do so without passion.
If you have a lot of heart, you don't necessarily need that much brain. You can still acheive success, but only with tremendous effort-a great lesson in itself.
But, what if you have both? What if you bring both heart and brain to the table?
Well, then there is no telling where we can go together, and there is no telling where you can go as an individual with the lessons that you learn here.
As a teacher, it was my job to get kids to maximize the use of both. Learning Biology was almost secondary. Develop both-that's what a teacher should do. It's possible...and it begins on Day 1.
Heart.Brain.
Welcome to Biology. I'm Mr. Jakes. Let's get started….
I really miss the first day of school....
published originally in the
Techlearning.com blog